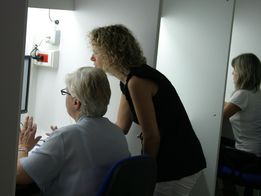 All the people interested in Sensory Analysis can participate for free in the affective tests (= liking of the product) that are organized in our laboratory. This tests involves an average of one hundred consumers.
Except special cases, there are no restrictions of age, provenience or eating habits. Everyone has the opportunity to express their own feelings and make a concrete contribution to the realization of our research projects.
It is necessary to indicate SURNAME and NAME and an e-mail address to be informed WITHOUT COMMITMENT on the times, the duration of the analysis and the food product that will be tasted and evaluated.
All the data concerning the taster and his assessments are managed to guarantee the ANONYMITY of the answers and the collected data are treated in an aggregated way.
Participation is on a voluntary basis, there are no restrictions, fees or bureaucratic formalities, furthermore no special skills or previous experience in the sector are required. Our laboratory is open to everyone!
Those interested in receiving information on upcoming sensory tests are invited to write to:
saida.favotto (at) uniud.it
tel. 0432558186